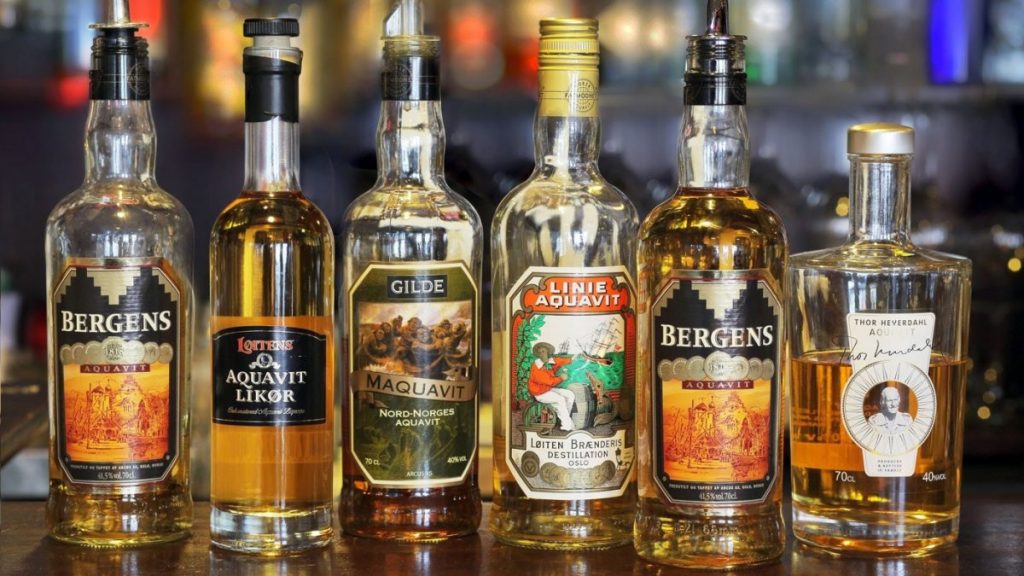 This Nordic spirit has a growing fanbase around the world, yet within Scandinavia it's favoured by the older generation.
Aquavit is a flavoured spirit that has been produced in the Nordic countries for more than 500 years. Its distinctive flavour comes from the spices and herbs. Different brands use different recipes, but according to EU rules the principal flavouring must be caraway or dill. The name aquavit is derived from the Latin aqua vitae, or water of life.
The taste
Aquavit is essentially just a heavily spiced vodka. The spirit is made in the same way as gin, but with herbs instead of juniper berries. Its savoury flavour can vary significantly between brands and also depending on how it is served. Some prefer it served at room temperature, while others prefer it chilled.
As with many spirits, bottles can also be aged. Most bottles have a yellow/golden colour, which can vary significantly between brands. Typically, a darker colour suggests an older age or the use of young casks. Artificial caramel colouring is used in some cheaper brands.
While often compared to gin because of the distillation process, the spirit has a more immediate flavour profile because of the simplicity of the caraway/dill, so it's a drink that you can easily detect when it's in cocktails. It's also strong, at least 37.5% and more usually 40%.
How to drink aquavit
Special Scandinavian events such as Christmas time, birthdays and weddings often feature aquavit. In Sweden and Denmark, the spirit is served chilled and in a small shot glass, usually as an aperitif. In Norway, it's more common to see the drink served at room temperature, and sometimes alongside a glass of beer.